Octopus Encounters: An Immersive Library of Octopus Aesthetics
---
September 4th – November 8th 2020,
GLASMOOG Raum für Kunst und Diskurs, Cologne
---
---
With Rachel Bailey (AU), Tanja-Kristine Böhme (DE), Burton Nitta (UK), Madison Bycroft (AU), Jeremy Deller (GB), Pascal Marcel Dreier (DE), Peter Godfrey-Smith (AUS), Thomas Hawranke (DE), Hörner/Antlfinger (DE), Florian Kunert (DE), mOwson&M0wson (AU), Neozoon (DE), Jean Painlevé (FR), Shimabuku (JP), Mike Singe (AUS), Anne Weyler (DE), Alexander Ziegler (DE).

---
curated by Heike Ander, Anne Hölck & André Krebber

---
The project Octopus Encounters features a series of explorations and collaborations staged by artists, scientists and curators, that attempt to bring us closer to octopuses. they have been initiated by okto-Lab
— an international interdisciplinary research lab established by scholars from the university of tasmania (Australia) and the university of Kassel (Germany) — and are presented in collaboration with GLASMooG at the Academy of Media Arts cologne (Germany). okto-Lab and GLASMooG invite you to immerse yourself into the world of octopuses.

the works exhibited at GLASMooG show that different approaches to the octopus lead to different images, experiences and understandings of the octopus, allowing access to a variety of views and perspectives. As a consequence, the exhibition can be read as either an (aesthetic) library, an art exhibition or a new attempt at natural history displays. thereby, it tests, challenges and widens what counts or might count as legitimate knowledge.
---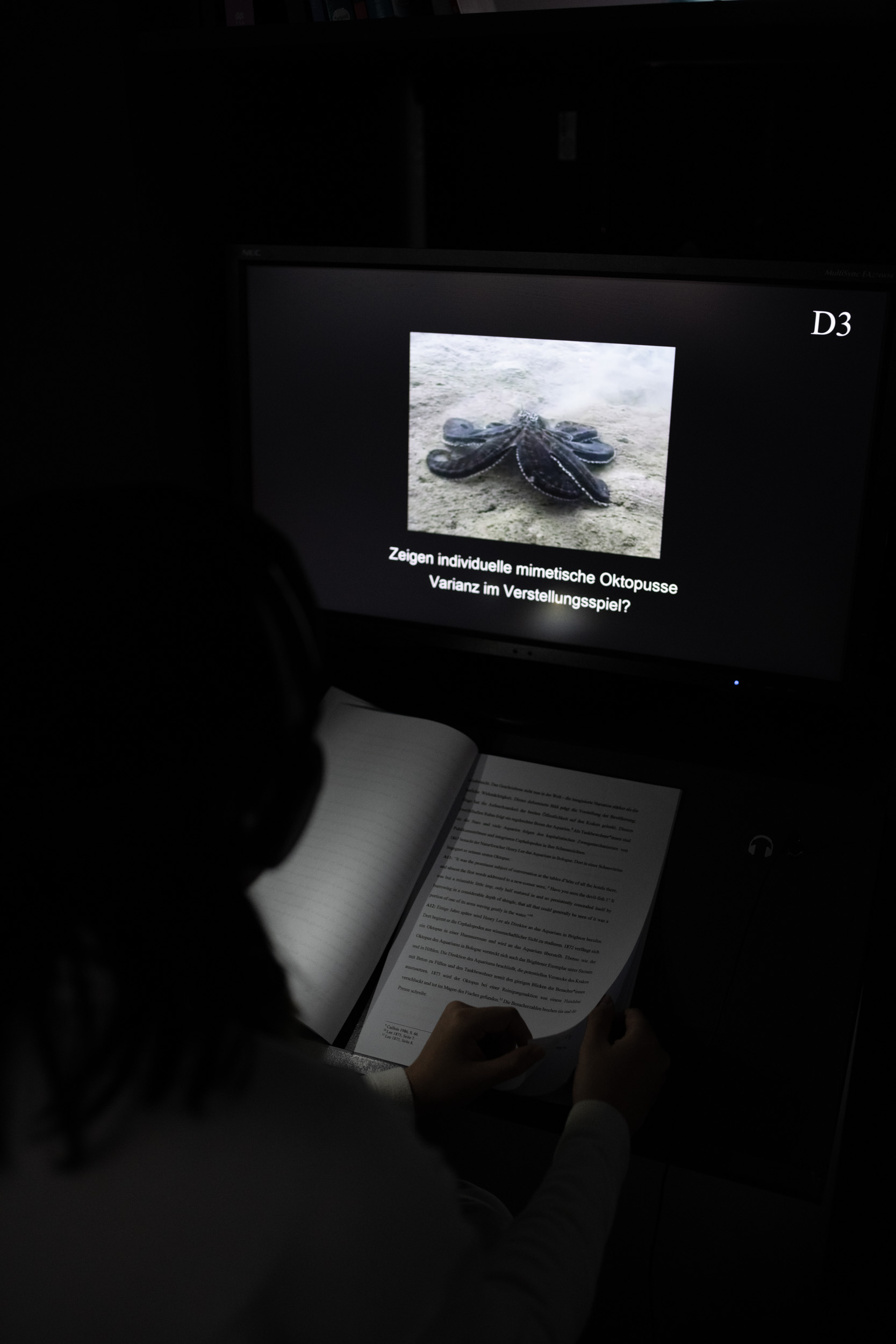 ---
A project by Okto-Lab (www.okto-lab.org) in cooporation with GLASMOOG (Cologne) and Plimsoll Gallery (Hobart).
---
Programme
---
Oct 30th-31st 2020
Virtual Conference:
Other Worlds — Octopuses in Interdisciplinary Perspectives

hosted by University of Kassel and GLASMOOG (Cologne)
please find all speakers ︎︎︎ here



---
Funding and support
---
DAAD (Federal Ministry for Education and Research),
Ministerium für Kultur und Wissenschaft des Landes Nordrhein-Westfalen, Kunststiftung NRW,
Academy of Media Arts Cologne
---
All Images © Pascal Marcel Dreier